Welcome to the website of Tenor, Robert Macfarlane - CALENDAR 2017 UP NOW!
NEWS:
September 2017:

Final additions to the 2017 Calendar are online now!May 2016:
Robert received rave reviews for his Australian performances this may. Of his performance of Rossini's Petite Messe Solemnelle in the Canberra International Music Festival, the Canberra Times said: "Tenor, Robert MacFarlane sang with irresistible joy, unleashing operatic flourishes for the benefit of both God and the audience."
Read the whole review HERE
.
One of the projects closest to Robert's heart is his program
The Path to Bach,
which was premiered under the auspices of
The Australian Bach Society
. The program, featuring the Schemelli Lieder and liturgical music of Weimar and Leipzig in the context of Bach's own path to the Thomaskirche, received exclusive coverage through CutCommon online arts magazine. Links found here:
Robert's story 'First Rock, the Baroque'
Review 'The Path to Bach'
Finally, Robert teamed up with partner-in-crime Stephen Whittington to celebrate Satie. The Advertiser wrote: "Indeed, Whittington has so absorbed the genre, his own
Karawane
setting of Dadaist Hugo Ball's words might have passed for Satie himself. Characterful tenor Robert Macfarlane performed wonders with its 17 songs in two minutes that segued seamlessly into Satie's own
Trois poèms d'amour
where understated but tender sentiments actually emerge unscathed."
Read all about it HERE
April 2016:

Robert has just finished recording a CD with the Vokalakademie Berlin and Rondeau Records, and is looking forward to a return trip to Australia in May 2016, taking in performances at the Canberra International Music Festival, the Australian Bach Society and Adelaide Baroque.

June 2015:

Robert's Debut in the Halberstadt Domfestspiele, singing the Tenor solos in Handel's Israel in Egypt, received critical acclaim:

Barocke Klangpracht vom Feinsten

"Wenn auch nur vergleichsweise kurz, boten die Solisten des Abends beeindruckende Leistungen. Nicht nur Robert Macfarlane, der mit seinem gut verständlichen Tenor und großer Spiellust den Texten nachdrückliche Wirkung verlieh."
"Heard only briefly, the soloists of the evening gave impressive performances. In particular Robert Macfarlane, who lent his articulate Tenor and great stage presence to the Texts with powerful effect."

April 2015:

Robert's Debut in the Sydney Opera House, singing the fiendish tenor arias (at modern pitch) in Bach's St. John Passion with the Sydney Philharmonia under Conductor Brett Weymark, has met with critical acclaim:

'The tenor, Robert Macfarlane, displayed a lovely lyrical instrument, coping well with the angular demands of Ach, mein Sinn and offering a warmly eloquent Mein Herz, in dem die ganze Welt, possibly the most radiant aria in the work.'
read more at Limelight Magazine.

May 2014:

Robert has been received with acclaim in Graz, where he made his Austrian debut singing the Virtuosic role of Ircano in Hasse's Semiramide Rinconosciuta:

"Köstlich als wilder Skythe der australische Tenor Robert McFarlane."
"Delightful as the wild Scythian was the Australian tenor Robert Macfarlane."
Kleine Zeitung

"Robert McFarlane (sic) behauptete sich zwischen den fünf Frauen mit recht sicherer Stimme und geziertem Spiel, das viele Zuschauer amüsierte."
" Robert Macfarlane asserted himself between the five women with a very secure voice and spruce acting, than amused many in the audience."
Wiener Zeitung
Powered by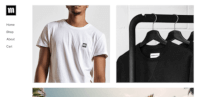 Create your own unique website with customizable templates.